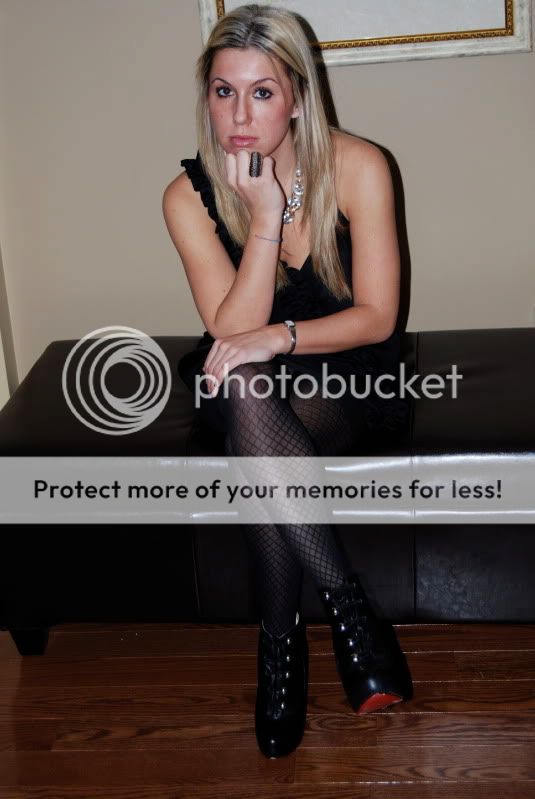 Top:
Banana Republic,
Skirt:
Wilfred Aritzia,
Shoes
: Christian Louboutin,
Necklace:
Mom's from the 80's,
Tights:
Claire's,
Ring:
Gift
Do you guys remember me? Its me Marisa...also known as the world's shittiest blogger. ha!
Somewhere in the midst of holiday season and parties, a 40 hour work week, a vacation, work out attempts and well.......just being lazy...i neglected my blog. A month and 1 week to be exact....shame, shame..double shame!
I contemplated not updating anymore and converting to my pre-blog status of stalking other peoples blogs, but I decided that it's better to update once in a while....then giving it up all together.
There was an article I read lately about how we are so connected...we have facebook,messenger, twitter, blogs...not so much to engage with eachother rather to prove how amazing our lives are. I mean you must be "cool" if you have over 800 "friends" on facebook, right? And although i agree with the article on some level...I feel my blog is not to show off what clothes I have but more of a diary....a way to look back on what I did, to express myself, to inspire....and since it is a fashion blog, an excuse to buy more clothes. And if I didn't keep it up....well, my 20 something memory can only take me so far.
Even if my posts are sparse and in between....I hope somewhere in this crazy thing called life...I can find the time to keep this up.
Here's to a new year with new goals!